One of the oldest universities in the English-speaking world is located in Fife, Scotland, tucked away on the rocky coastline and founded in 1413.
The Sunday Times Good University Guide 2022 recently named the University of St Andrews as the best university in the United Kingdom.
St Andrews is a charming medieval seaside town that is frequently referred to as the "home of golf" because it is home to the oldest golf course in the world. Frequent, high-profile games are played at the complex.
The Duke and Duchess of Cambridge, who launched the university into the international spotlight in the mid-2000s, are notable alumni.
The university has always boasted a broad and diverse student population; approximately 45% of students are international, representing over 130 countries
Students at an ancient university steeped in history and customs annually celebrate May Day by congregating on East Sands Beach at dawn and diving into the North Sea.
Additionally, first-year students are "adopted" by older students who serve as "academic families" and support networks, providing networking opportunities, friendship, and mentorship.
The "academic families" plan for their "children" to take part in Raisin Monday, a custom in which mentees are dressed up and sent to St. Salvator's Quad to take part in a massive foam fight.
The university was named the best institution for student satisfaction in 2021, and this is demonstrated by the extremely high rate of student retention.
There are 150 societies and 50 sports clubs available to students, and there is a society or club for every interest, ranging from fencing to archery.
Acceptance rate
Acceptance Rate at St. Andrews
The acceptance rates at the most selective colleges and universities in the UK range from 8% to 44% The University of St. Andrews is one of the worst, only accepting about 8 students. 63% of all undergraduate applicants. Still, more than 45% of the school%E2%80%99s students are from outside the UK
The acceptance rates at some of the most selective academic institutions in the US are in the single digits. This is particularly true for Ivy League universities and other elite institutions like CIT, MIT, and the University of Chicago.
There are numerous highly selective institutions outside of the US that draw a sizable number of international students.
Case in point: the University of St. Andrews in Fife, Scotland. In fact, according to information found online, more than 10,000 students from roughly 170 countries apply to St. Andrews in hope of getting admitted. Unfortunately, the majority of them receive rejections because of the school's extremely low acceptance rate.
It goes without saying that your chances of being accepted to the University of St. Thomas will be significantly reduced if schools like Harvard University and Dartmouth College are only reach schools on your college list. Andrews are slim to none.
The bottom line: If your application isn't strong enough to get into some of the most prestigious colleges and universities in the nation, applying to St. Andrews.
This is true if you are not 100% committed to being on an entirely different continent far away from your family and friends for four long years
Related Article: How to Get Into McGill as an American
How Much Does It Cost to Attend St. Andrews?
The sticker price of the University of St. Andrews for undergraduate students, as of the academic year 2021 to 2022 rate, is $53,761 (£39,575) yearly. The tuition alone is $32,314 (£23,787), which is higher than the average for US public institutions: $9,970 (in-state) and $25,620 (out-of-state).
In the UK, tuition for colleges and universities ranges from £10,000 ($13,584) to £38,000 ($51,620). For some degrees, like those in medicine, the price can be up to two or three times higher.
Here's a breakdown of the estimated cost of attending St. Andrews for a year as an undergraduate student:
| EXPENSES | COST IN POUND STERLING | COST IN USD |
| --- | --- | --- |
| Tuition | £23,787 | $32,310 |
| Room and board | £9,258 | $12,575 |
| Travel | £2,000 | $2,717 |
| Books and supplies | £1,200 | $1,630 |
| Personal | £3,330 | $4,523 |
| TOTAL | £39,575 | $53,755 |
According to your application, you are what the University of St. Andrews is specifically seeking, but does your family's income completely align with the cost of attendance?
Do not worry, though, because undergraduate international students, including those from the US, who will attend the school in Scotland, may submit scholarship applications. These financial aid packages include tuition reductions of up to £1,358 ($1,358) per year for St. Andrews attendee.
But there are prerequisites to fulfill, just like for need-based scholarships at US colleges and universities.
US applicants must be able to show that their gross annual household income is less than the national average in order to be eligible. As a result, you will need to present a variety of proofs, including but not restricted to the following:
Employment or salary statement (most recent last three months)
Tax certificates or returns
Tax credits
Council tax statement
Confirmation letters from the department of work and pensions
Letters from the local government
Personal Independence Payment (PIP)
Disability Living Allowance (DLA)
Dividends
Pension
Annuity
Completed FAFSA form
Bank or ebank statements (if evidence is not available)
How International Students Apply to St. Andrews
US citizens may submit an application to the University of St. Andrews in three ways. First, through the Universities and Colleges Admissions Service (UCAS), which students use to apply to different UK universities Second, via the Common App. Lastly, by applying to St. Andrews directly through its website.
Over 900 colleges and universities in the US accept applications through the Common App.
The University of St. Thomas is one of the schools you can apply to using the Common App, which is great because, believe it or not, you can use it to apply to some schools outside the United States. Andrews.
You will find the process of applying to St. John's particularly challenging if you are submitting Common App applications to numerous US institutions. Andrews using it, too, a less stressful and arduous task. That's because you are already familiar with the Common App. Most of the time, all you need to do is edit St Andrews-specific questions or sections.
You can also use UCAS, which is essentially the UK's version of the Common App, in addition to the Common App. Both UCAS and the Common App have seven sections, which makes them similar.
Let's examine each of the two's distinct sections:
COMMON APP
UCAS
Personal details
Additional information
Student finance arrangements
Course choices
Educational history
Employment history
Personal statement and reference
Students from the US may apply to the University of St. Thomas without using the Common Application or UCAS. Andrews directly by paying its website a visit.
By the way, prior to selecting one of the numerous St. Applicants from the US who are interested in studying at St. Andrews should be aware that you can only use the Common App if you are not applying through UCAS or directly to the school.
Application Deadline for St. Andrews
The deadline for application for the University of St. Andrews for international students is May 1. The school must receive not only the completed application by this deadline, but also all necessary supporting documents. In some instances, on a case-to-case basis, St. Andrews accepts late applications.
The most typical college and university application deadlines in the US are January 1 and January 15. Naturally, earlier deadlines apply to early admission plans like Early Decision and Early Action.
Planning to obtain a degree from the University of St. Andrews?.
Then, make sure to submit the completed Common Application or UCAS along with all necessary documentation well before May 1 in order to ensure that it reaches the admissions office of St. Andrews on or before the deadline. Otherwise, your application may not be considered.
Wondering when the University of St. The school's admissions officers hope to complete all of their decisions by March 31. Andrews releases application decisions.
It's no secret that St. One of the most esteemed public universities in Scotland, the UK, and the rest of the world is Andrews.
Due to the large number of high school graduates who apply from all over the world, available spots frequently become full. This is why the school advises submitting an application as soon as possible.
Normally, the University of St. Andrews receives the bulk of applications between September and February.
Just in case your application wows the admissions office, St. Andrews will let you know about it through email. In addition, you will receive a booklet containing additional details about your offer to enroll in the school, a physical acceptance letter, and other correspondence in the mail.
Additionally, notifications for students who use UCAS will be sent through the UCAS Track feature of the app.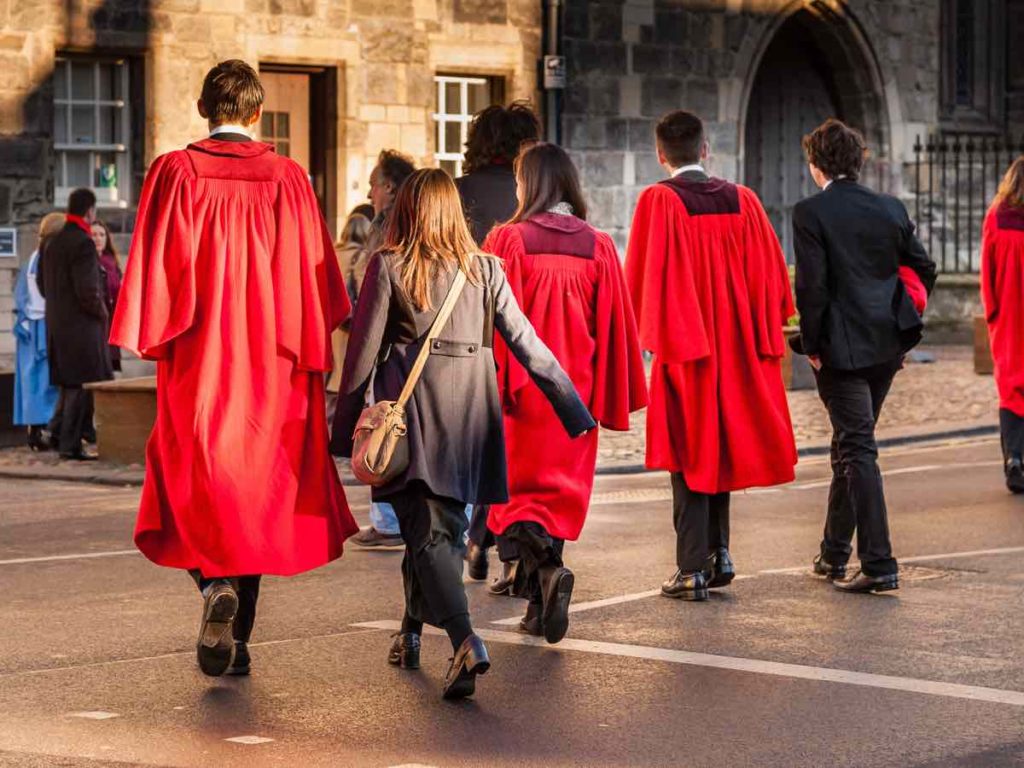 GPA You Need to Get Into St. Andrews
Unlike many US colleges and universities, the University of St. Andrews has a published minimum GPA requirement applicants should meet. Surprisingly, despite being a highly ranked and selective school, St. All applicants to Andrews, including those from the US, must have a 3 2 high school GPA at least.
Applicants to some US higher education institutions are not required to have a minimum high school GPA.
This is advantageous because it means that you can apply to them regardless of your GPA. As a result, you might experience even more stress and anxiety because you don't know how likely you are to be accepted based solely on your high school GPA. Well, at least until you look at the school's Common Data Set (CDS).
For instance, Harvard University has no published minimum GPA requirements for applicants. However, its most recent CDS will show that up to 75 76% of its first-time, first-year admits have 4. 0 high school GPAs.
Like Harvard, the University of St. One of the most well-known and esteemed universities on the planet is Andrews. However, the distinction between these two is that even slightly superior high school students who aspire to attend St Andrews have a shot at getting accepted into it.
In the US, the average high school GPA is 3. 0 — the University of St. Andrews expects to see at least 3. 2.
Don't think that getting the minimum GPA will guarantee you admission to St Andrews. It is a highly selective school, regardless of the low minimum high school GPA it prefers to see on your application. It goes without saying that if you want to be a part of the 8 you need to have a strong overall application. 63% admitted students.
Does St. Andrews Require SAT or ACT Scores?
The University of St. US applicants must submit their standardized test results in order to apply to Andrews. The school has a competitive admissions process, so high SAT or ACT scores are the only thing admissions officers are looking for. For example, candidates must have an ACT score of 28 and a minimum SAT score of 1320.
Standardized test results must be submitted to colleges and universities in the US in order for them to have a better idea of how prepared applicants are for college.
As of this writing, the average SAT score of graduating high school students in the US is 1060. Meanwhile, the average ACT score of high school students gearing up for US institutions for higher education is 21.
If you want to attend St. Thomas, based on the statistics provided, you will need to have an above-average standardized test score. Andrews.
Having an SAT score of 1580 or an ACT score of 36 will put you in the top 25% for most Ivy Leagues
If you want to improve your chances of getting accepted to the University of St Andrews, as was previously stated, you must submit an SAT score of at least 1320 or an ACT score of at least 28. At St. By the way, Andrews, both the ACT and SAT Writing sections are optional.
Everyone is aware that some US colleges and universities have a test-optional policy, which allows applicants to submit their standardized test results with or without a test application.
Most of the time, candidates who opt not to submit their SAT or ACT scores are not asked to give a justification.
Well, it's a different story at the University of St. Andrews. International applicants should explain in their Personal Statement on their applications why they were unable to take the SAT or ACT, per the school's website. Additionally, those who don't submit their standardized test results won't be penalized, just like in test-optional schools in the US.
By the way, St. Andrews superscores standardized test scores. Since the school will only take into account the highest section scores, if you took the SAT or ACT more than once, you may submit all of your scores from all test dates.
St. Andrews and AP Exam Credits
The University of St. Andrews considers AP exams when evaluating applicants. High AP exam scores, it goes without saying, may increase a student's chances of being accepted into the school. However, it's important to note that St. The only reason Andrews uses AP exams is for admissions.
Showing that you are as college-ready as you can be will do more to impress the college or university of your dreams with your application than anything else.
Taking AP exams is one way to demonstrate your readiness to enter and succeed in secondary education.
It's true that a competitive school like the University of St. Andrews determines whether or not applicants are strong candidates by examining their participation in and performance on AP exams. Generally speaking, the better the AP courses and scores on the AP exams, the harder they are.
At St. Andrews, some programs demand a specific background in specific subjects from applicants, including international students from the US. This is what the school refers to as prerequisite knowledge.
Interested in a University of St. Thomas program in, say, computer science, mathematics, or physics? Andrews offers?.
Then, you must have taken AP Calculus BC or an equivalent course and received a score of 5 on the AP exam. But keep in mind that prerequisite knowledge isn't solely dependent on passing the AP exam. Sometimes, the GPA or test score is the one involved. For instance, to study French at St. Thomas, one must have a 700 or higher on the SAT Subject Test in French. Andrews.
Unfortunately, as was previously mentioned, the University of St. Andrews for admissions purposes solely. In other words, you won't be able to receive college credit.
Just Before You Apply to St. Andrews
The University of St. Andrews is just as esteemed as some of the most prestigious and competitive universities and colleges in the US. You can't simply shortlist it as a reach school and consider your college list balanced and realistic, though, because it's situated on a completely different continent.
In the paragraphs above, we established that the requirements to enter St The criteria for admission to elite US institutions are similar to those at Andrews. However, given that it is abroad, there are additional considerations in addition to fulfilling the requirements set forth by the school for applicants.
University of St Andrews / How I was accepted!
FAQ
Is St Andrews difficult to get into?
With an average acceptance rate of only 8. 35%, the University of St. One of the most challenging universities to get into, not just in the UK but worldwide, is Andrews. This ideally means that 8–9 applicants out of every 100 are admitted to the University of St. Andrews.
What GPA do you need to get into St Andrews?
3. 7 or above (based on a 4. 0 grade point average GPA scale) – if a First Class Honours degree is required in the UK.
What is the acceptance rate at St Andrews?
St. Andrews University admissions is selective with an acceptance rate of 61% Learn more about College Compass to see additional academic factors along with other school data.
Is St Andrews a prestigious school?
It is not surprising that the University of St Andrews, a 600-year-old institution, is regarded as a global leader in education. We consistently rank highly in both national and international league tables, placing us among the top 100 universities in the world.