We are pleased that our medical students at NYU Grossman School of Medicine are well-rounded and knowledgeable about subjects outside of the humanities and sciences. We think their diversity will help them be better able to address the most difficult problems in healthcare.
Introduction – How to get into NYU Medical School
With no tuition fees, the NYU Grossman School of Medicine in New York City is drawing more and more applicants from across the nation. What are the admission requirements for NYU Langone Medical School? NYU has always been a very competitive and well-known medical school, and that popularity grew when the institution began offering full tuition scholarships in 2018, as announced by the board of trustees. We will explain how to improve your chances of admission to the NYU medical school in this in-depth guide by describing the various facets of your background, candidacy, and application that will affect NYU's interview and admissions decision. Remember that NYU also operates a medical school on Long Island called the NYU Long Island School of Medicine, which specializes in training primary care doctors. The subject of NYU Long Island will not be covered in this article.
There are many factors that go into a strong NYU medical school application, but you should concentrate on these five things to gauge your competitiveness:
GPA Requirements

MCAT Requirements

Experience Requirements

Application

and Secondary Essay Requirements

WES (World Education Services) Standards
Let's discuss each of these items in greater detail.
NYU Medical School Average GPA
According to U.S. News & World Report, NYU is the ninth-best medical school in the nation. S. News for research. As a result, the GPA needed to be seriously considered for admission to a medical school is quite high.
Average GPAs for students accepted to NYU:

NYU Medical School GPA: 3.95 (range 3.74 – 4.0)

NYU Medical School BCPM GPA: 3.95 (range 3.69 – 4.0)
NYU will also anticipate that you will exhibit academic excellence in your coursework, demonstrating that you overcame a difficult college curriculum.
What are NYU medical school requirements?
Here are the courses NYU expects applicants to have:
Biology

Biochemistry

English

Math – college level

Genetics

Inorganic Chemistry

Organic Chemistry

Physics

Psychology

Social Science
You should enroll in upper-level science classes in addition to the ones listed, and you should demonstrate mastery of whatever field you major in. You do not need to major in a science. In fact, esteemed institutions like NYU aspire to enroll a diverse student body with a range of intellectual interests.
Related Article: Medical Schools in New York
NYU students have also earned very high MCAT scores. The accepted students' MCAT scores range from 516 to 526, with an average of 522. In our experience, students with MCAT scores below 517 to 518 have a difficult time getting interviews from NYU unless they have exceptional circumstances, experiences, or backgrounds.
In order to achieve your desired NYU MCAT score, get ready using the links below:
NYU Medical School Experience Requirements
You can see what NYU values in an applicant's experience profile by looking at what the vast majority of accepted students engaged in as premedical students.
Since 81% of students accepted to NYU have community service experience, NYU clearly likes to see applicants who have committed their time to other communities and people The website of the Association of American Medical Colleges is a good place to start looking for these kinds of opportunities. Despite the possibility of numerous excellent local opportunities in your area, use this link to organize yourself.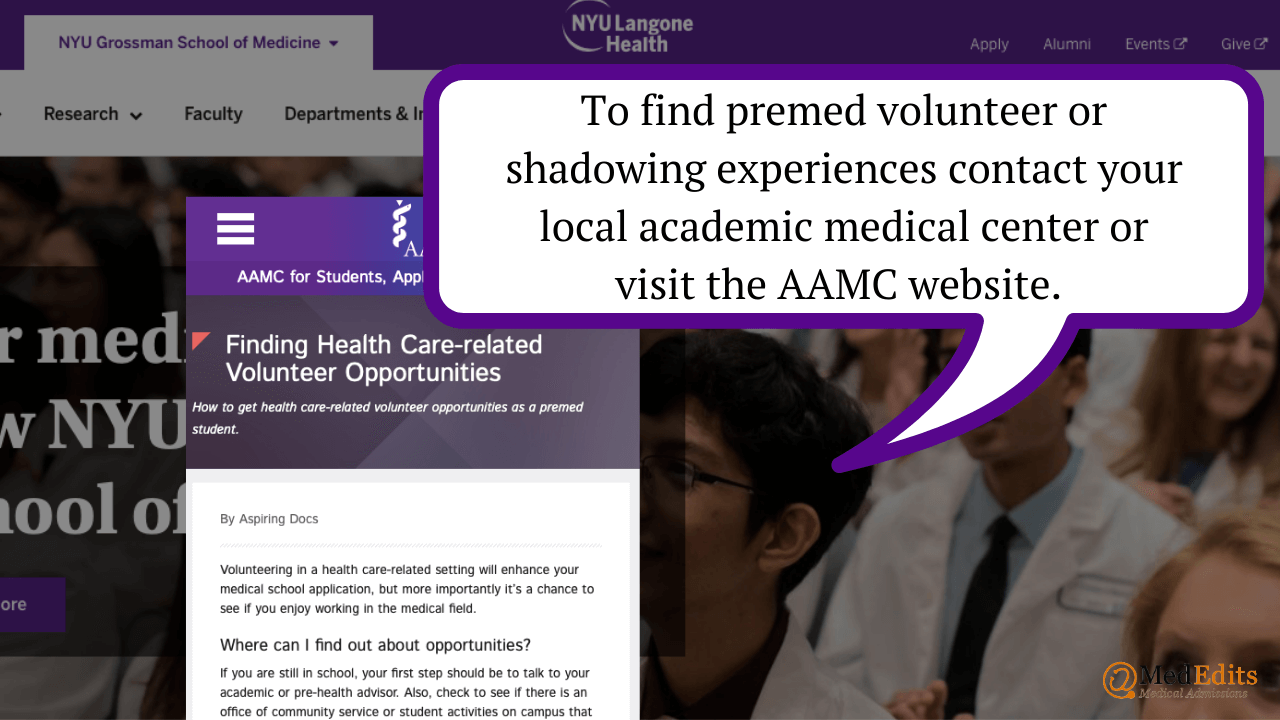 To show that they understand what it means to practice medicine, NYU prefers that applicants have shadowing or clinical observation experience. 84% of students have this experience.
In combining the two categories above, 85% of students have community service experience that is medical or clinical in nature This indicates that students have given their time to a clinical environment, such as a free clinic or hospice.
A research-heavy school, it is not surprise that. A whopping 98% of students have some research experience.
Nobody expects you to be an "expert" in each of the aforementioned categories. In fact, a pattern we've noticed is that medical schools, like NYU, are increasingly looking for applicants with a variety of backgrounds but a "spike" of interest, or a particular passion, in one particular area. What that area is doesn't really matter, but NYU is hoping to develop a class of specialists who might have a niche in a certain area and be able to contribute to the overall diversity of the medical school class and community, just as the field of medicine has a variety of specialists all of whom contribute something different.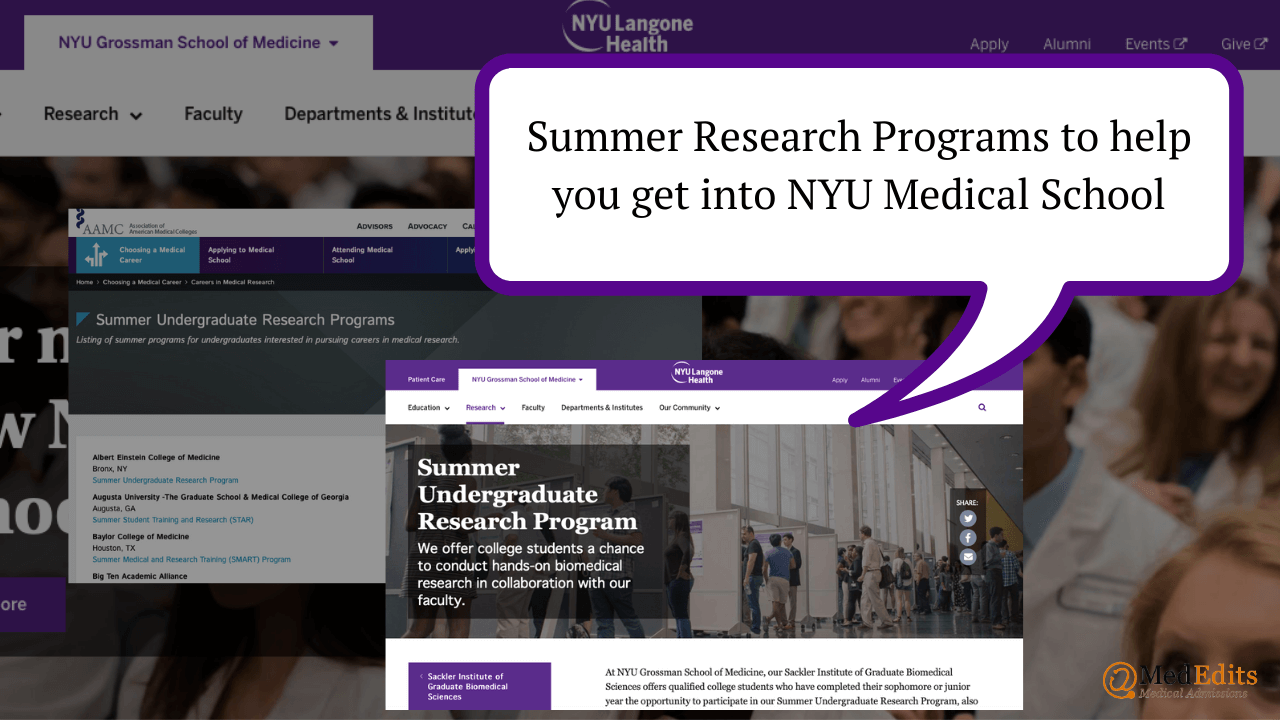 Summer Undergraduate Research Programs for Pre Med Students
You won't submit a personal statement for medical school to NYU in particular. Instead, you will use AMCAS, a centralized application service, to apply to NYU. Your AMCAS personal statement will be sent to NYU and all other AMCAS medical schools you apply to, as well. Here are some basics about the AMCAS personal statement:
The AMCAS personal statement has a character limit of 5,300 characters, including spaces.

The AMCAS personal statement instructions are as follows:
"Take advantage of the Personal Comments Essay to set yourself apart from other applicants." Think carefully before writing your personal comments essay; admissions committees often give the essay a lot of weight. ".
NYU Medical School Work and Activities
NYU Grossman School of Medicine does not ask you to submit a CV or resume. Instead, NYU requires you to submit a centralized AMCAS application which requires you to write about your accomplishments in detail. These "work and activities entries" as they are called, are sent to NYU medical school as well as any other medical schools to which you apply through AMCAS.
Below are a few things you should know about the AMCAS work and activities.
the AMCAS job
You have the option to write up to 15 activity descriptions in this section of the AMCAS application, each of which can be up to 700 characters long.
Then, you can choose three of those activities as the most significant ones, giving you an extra 1325 characters to describe the activity.
We urge you to make the most of this opportunity by providing as much detail as you can about your roles, responsibilities, the insights you gained, and what you took away from the experience. Write in-depth about the effect or "difference" you made as a result of the experience.
NYU Medical School Application and Secondary Essay Requirements
The NYU requirements for letters of recommendation are two minimum and eight maximum, with a committee preferred if your school has one. We discover that the majority of successful NYU applicants have six letters of recommendation.
The secondary application fee for NYU Medical School is $100, and the deadline to submit is November 15th.
Below are the NYU secondary essay prompts: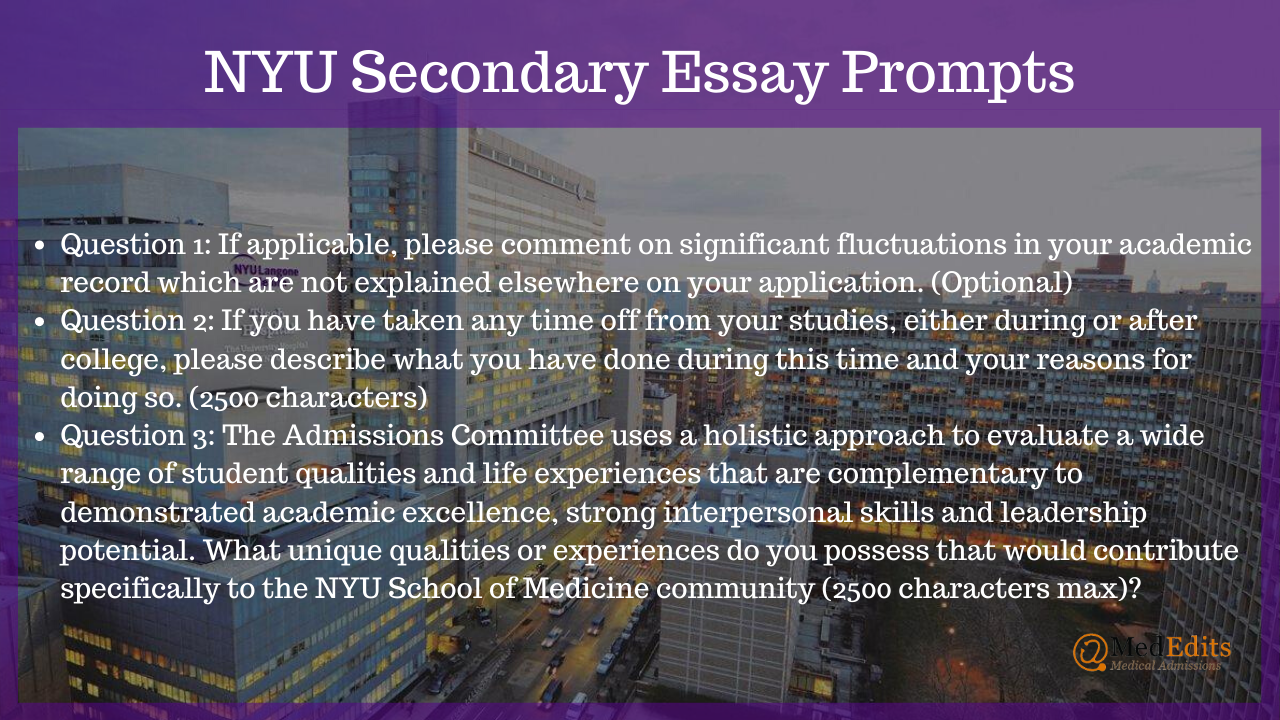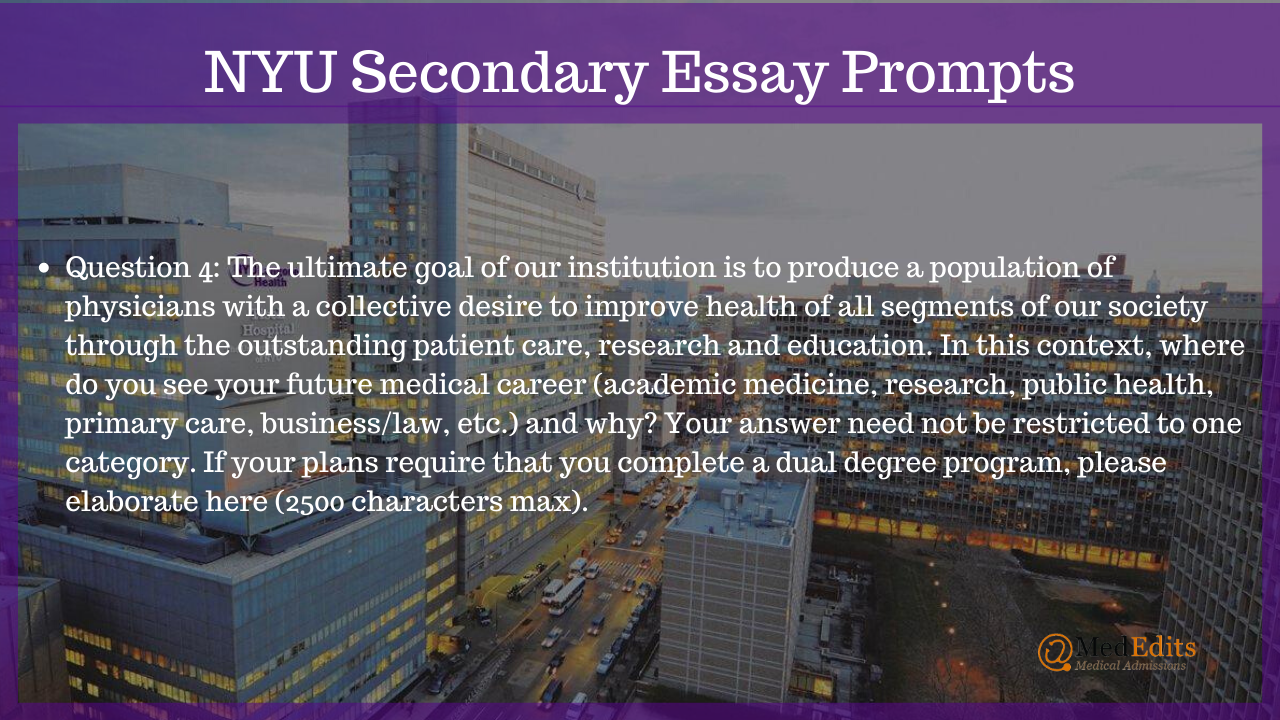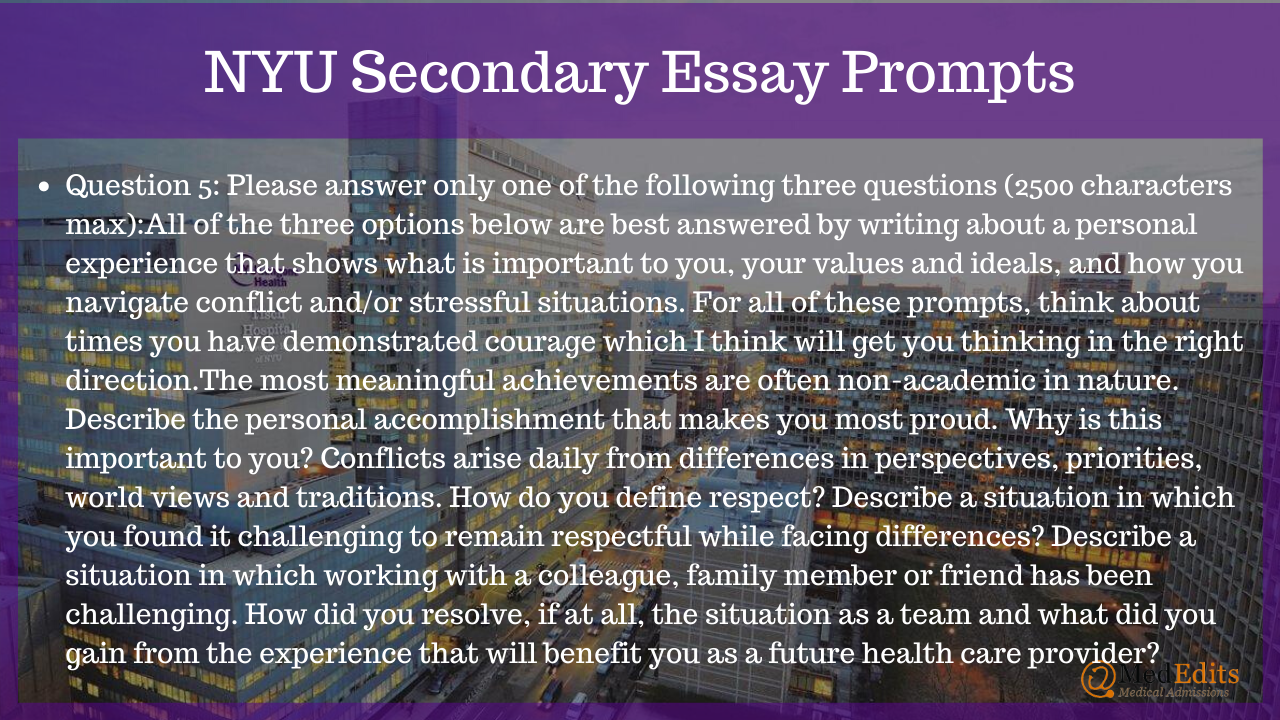 NYU Medical School Acceptance Rate and Admissions Statistics
NYU received 8,937 applications for the 2019–2020 entering medical school class, and 11 candidates were interviewed. 8% of applicants. 21% of applicants interviewed were accepted. A total of 103 students enrolled.
What is the NYU Medical School Acceptance Rate for 2021?
The NYU Medical School acceptance rate is 2. 45% making it one of the most competitive medical schools in the country
What is the NYU Medical School Ranking for 2021?
In 2020, NYU is ranked #9 (tie) in Best Medical Schools: Research and #44 (tie) in Best Medical Schools: Primary Care by U. S. News and World Report.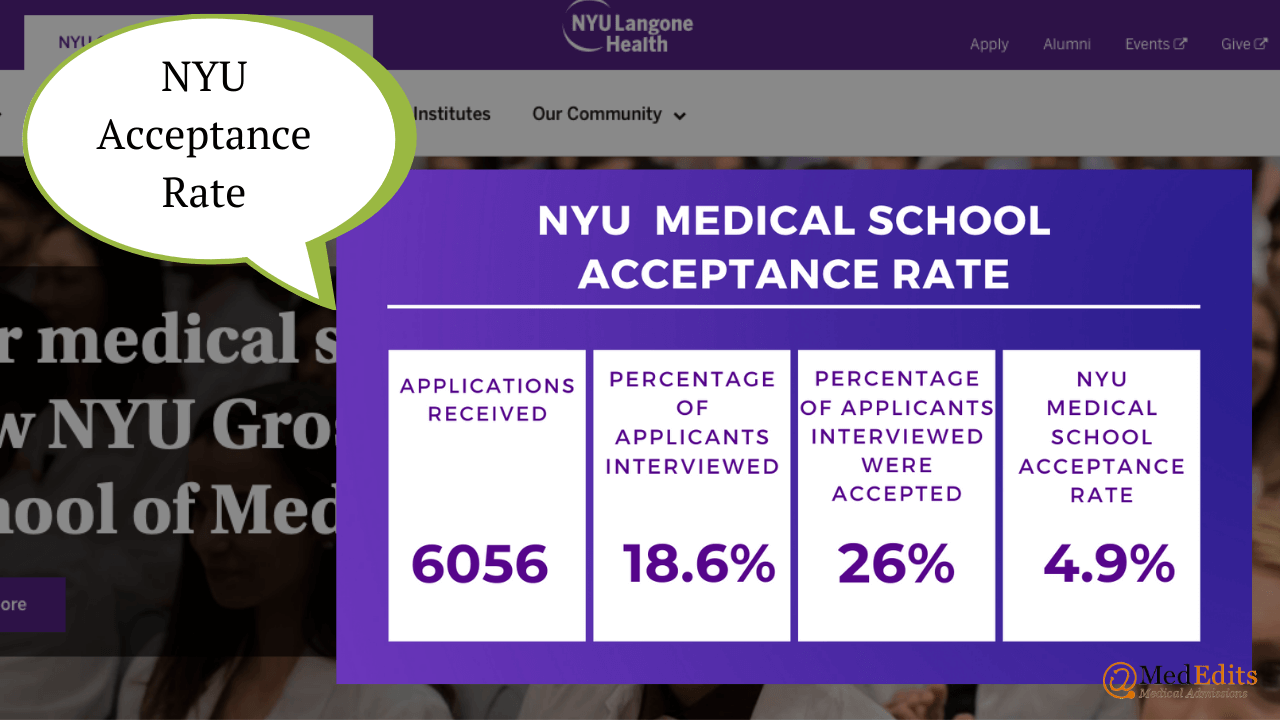 NYU Grossman School of Medicine Acceptance Rate
NYU Medical School Interview
Eight different stations participate in multiple mini interviews from NYU that last for about an hour. You will be assessed on "your decision-making, critical-thinking, and communication skills as they relate to healthcare and social issues" during the MMI interview, which is a situational interview. " Like many medical schools in the U. S. The MMI at NYU is a hybrid model with one 12-minute traditional interview station. You will be subjected to standard one-on-one interview questions during this interview. The MMI-trained faculty, medical students, and staff at NYU will evaluate and interview you as part of a 360-degree interview process.
NYU Residency Placement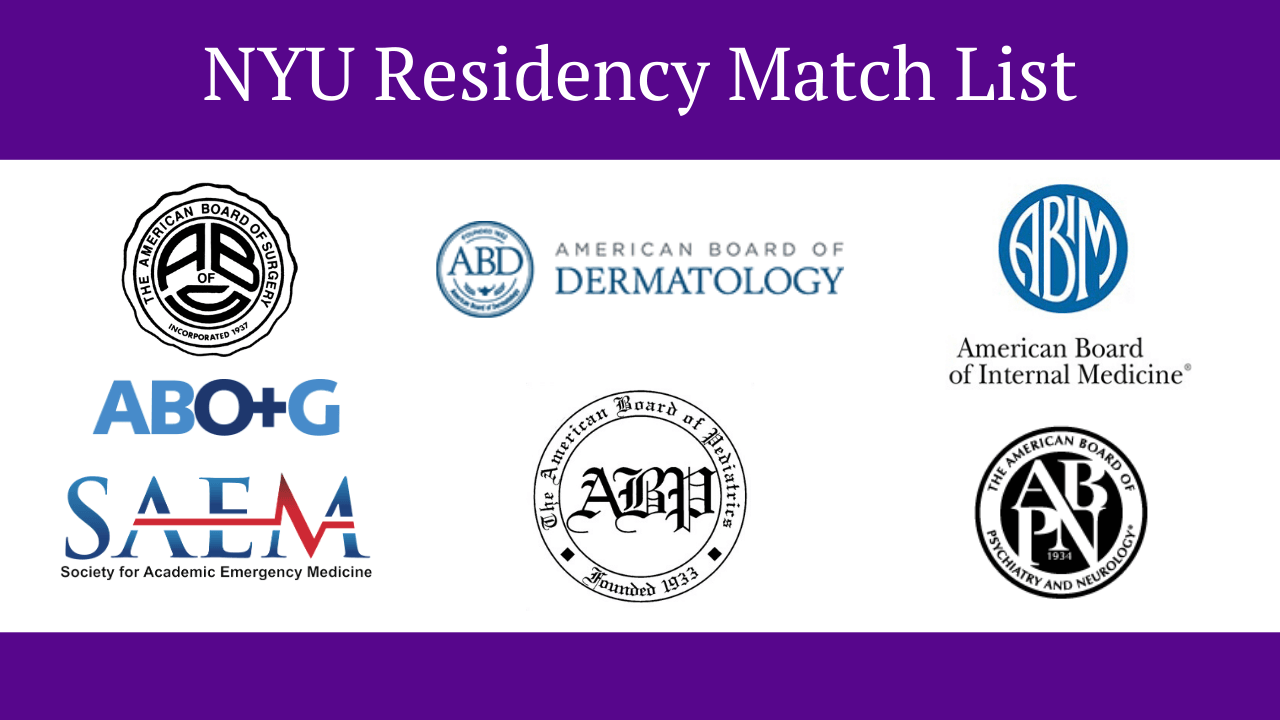 In highly competitive specialties like dermatology, neurological surgery, ophthalmology, orthopedic surgery, otolaryngology, and plastic surgery, NYU graduates do quite well, with many matches. The impressive average USMLE Step 1 score was 239. The following medical specialties and occupations were among the most sought-after residency placements at NYU:
NYU Medical School Admissions Timeline
Use the following medical school timeline to set objectives in order to create a successful NYU medical school admissions plan.
It's crucial to keep in mind that you must submit your documents well in advance of deadlines because the application process for medical school is competitive. For instance, we advise submitting your primary application no later than mid-July and finishing your secondary application no later than the end of August. Of course, there may be exceptions to these "rules" depending on an applicant's profile, so if you have any questions, please contact our office.
NYU Medical School Admissions Timeline Tips
To Learn more about CASPer,

click here.

After receiving the prompts, we advise you to finish secondary applications within three weeks. For more information on secondary essays for NYU medical school, click here.
NYU utilizes the MMI interview format. Click here to learn more.
Final Thoughts
It makes sense to apply if you are competitive even though New York University School of Medicine is a highly competitive medical college. Even with free tuition, though, it can still be expensive to live in Manhattan and the nearby boroughs of New York City. Future medical students at NYU can anticipate receiving a top-notch education and having access to Langone Medical Center and excellent clinical experiences. Additionally, you will be in a position to succeed in your chosen specialty and have a rewarding career in medicine.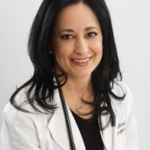 NYU Medical School Admissions (ARE YOU A GOOD FIT??)
FAQ
What GPA is requirements for NYU Medical School?
A bachelor's degree from an accredited college or university in the United States or Canada is required of applicants to the NYU Grossman School of Medicine. Students in our most recent incoming class had median and average undergraduate GPAs of 3 and 3. 96 and 3. 92, respectively.
What is the acceptance rate for NYU Medical School?
Admissions data for NYU Medical School show that only two applicants are accepted. One of the nation's most competitive medical schools is NYU Grossman, with an acceptance rate of just one percent. Here are the details regarding the class of 2026's admissions: 8,361 applications Interviews: 1,037.
Is NYU Langone a good medical school?
NYU Grossman School of Medicine is No. 2 in the nation for research on the 2023 U. S. News & World Report "Best Graduate Schools" rankings. We are honored to have mentored thousands of doctors and scientists whose discoveries have influenced the development of medicine.
What is the hardest medical school to get into?
Top 10 Hardest Medical Schools To Get Into
Harvard Medical School. …
Wake Forest School Of Medicine. …
George Washington School Of Medicine And Health Sciences. …
Warren Alpert Medical School Of Brown University. …
Howard University College Of Medicine. …
New York University (NYU) Grossman School Of Medicine.