Fast Facts: McDonough MBA
| | |
| --- | --- |
| Acceptance Rate | 51% |
| GMAT Average | 697 |
| GPA Average | 3.29 |
| Avg. Years Work Experience | 5.7 years |
Source: Georgetown McDonough, Class of 2024 data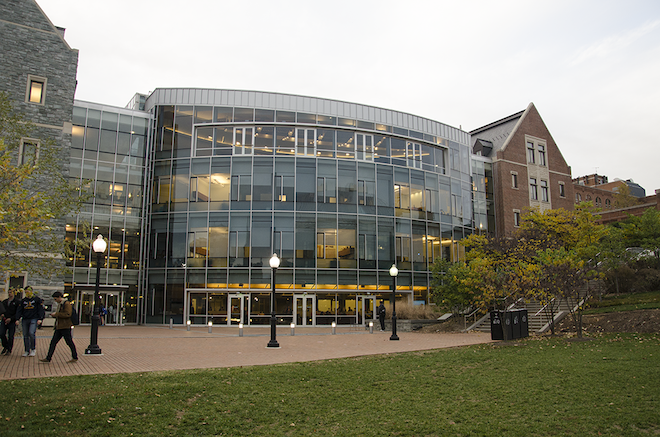 Undergraduate Majors Represented in McDonough's MBA Program
The top undergraduate majors represented in McDonough%E2%80%99s MBA program are Business/Economics (49%), Engineering/Math /Intl. Studies (19%).
Top Undergraduate Universities from McDonough's MBA Class
The following undergraduate institutions have the highest representation in McDonough's MBA class profile:
Tufts University
Penn State University
Northeastern University
United States Naval Academy
Georgetown University
University of California, Berkeley
University of Maryland College Park
The George Washington University
University of Richmond
University of Rochester
More Acceptance Rate Pages:
If your undergraduate institution is listed, it means that McDonough has previously accepted a large number of applicants with your educational background. Additionally, it demonstrates that candidates who attended these institutions thought about applying to McDonough, which is one sign that the business school has found these graduates to be successful.
McDonough's Top Pre-MBA Industries
McDonough's top pre-MBA industries are financial services (20. 1%), consulting (10. 4%), technology & new media (8%), and government (4. 8%).
You can determine whether McDonough is a good fit for your profile by looking at the pre-MBA industries. There may not be many students enrolled from your industry simply because many candidates didn't apply to the program in the first place, so don't be concerned if you don't see your industry on the list. The information we've provided below about pre-MBA employers is the same.
Top Pre-MBA Employers Represented at McDonough
The McDonough MBA class is most heavily represented by the following pre-MBA businesses:
Georgetown University
Deloitte
Accenture
US Navy
Peace Corps
US Army
The United States Marine Corps
KPMG
HM Revenue & Customs
Thyssenkrupp Elevator
What does McDonough value?
Candidates who are diverse, technically proficient, and eager to serve as moral leaders with a global perspective in business and society are sought after by Georgetown McDonough. It is seeking a diverse group of enthusiastic, independent thinkers who are dedicated to the transformative educational experience of the Georgetown MBA Program.
Visit our Georgetown McDonough overview page if you're curious to learn more.
3 Misconceptions About Georgetown McDonough's MBA Program
FAQ
Is McDonough School of Business hard to get into?
This year's McDonough admissions were more selective, with only 11 80% of applicants accepted as compared to last year's 19. 95% for the Class of 2020. The average SAT score increased significantly from the average of 1429 last year to 1447 this year.
Is McDonough School of Business good?
McDonough Rankings In the 2022 Financial Times Executive MBA ranking, the Georgetown McDonough Executive MBA remained a top-ranked program, coming in at number eleven in the United States. In addition, among United….
How hard is it to get into Georgetown business?
For every 100 applicants, only 15 are admitted. This means the school is extremely selective. To get past their initial filters and demonstrate your academic readiness, it's crucial to meet their GPA requirements and SAT/ACT requirements.
Is McDonough a stem MBA?
The Georgetown McDonough Full-time and Flex MBA programs now provide a STEM-designated management science major to make sure students are ready to lead in a period of quickly changing business practices.