Sometimes, only after spending some time on a new campus does a person truly know if they made the right college choice. This reality, in part, explains why only about 61% of students, on average, return for a second year at their freshman-year college
However, that number is significantly higher at the University of Georgia. 96% of freshmen return for a second year at the University of Georgia, and that fact is no surprise
The Georgia Bulldogs have one of the most successful college sports programs in the nation, for starters. Additionally, the University of Georgia's alumni network was named the best in the country by World Scholarship Forum.
But beyond its admirable reputation, Georgia has a strong history of giving its students top-notch education.
The University of Georgia has become the largest university in the world to guarantee that every student participates in a hands-on learning experience in response to mounting evidence of hands-on learning's effectiveness.
Whether conducting research, studying abroad, or engaging in service learning, it can be challenging to find these kinds of practical learning opportunities outside of a university setting.
This makes Georgia more desirable for students who want to take full advantage of this distinctive aspect of college.
The data also demonstrates that Georgia has one of the happiest student populations in the US, further demonstrating to hopeful Georgia students that they will find a home in Athens. Georgia was ranked as the third-best university in the nation by Niche for the quality of student life.
The University of Georgia has expanded since 1785, adding 38,000 students, over 800 student organizations, and 129 undergraduate degrees. For a variety of students, this makes Athens—that charming college town on the banks of the Oconee River—the perfect place to attend college.
University of Georgia Rankings
The University of Georgia is #16 in Top Public Schools and #48 in National Universities by US News. It is #1 in Best Big Colleges in Georgia and #11 in Top Public Schools in America by Niche. UGA is #2 in Best Public Colleges in Georgia and #4 in Best Value Colleges in Georgia by College Simply.
The University of Georgia, a flagship institution, is a highly regarded organization.
The fact that UGA is a party school with fantastic Greek life and athletics is one of the factors that draws many students to it. True enough, it is #6 in both Top Party Schools in America and Best Greek Life Colleges in America by Niche. The popular college ranker also puts it at #1 in Best College Athletics in Georgia.
Here are some additional UGA rankings from various college ranking websites, which tend to get very busy during the college application season and should help you decide whether the University of Georgia is superior to the competition in terms of rankings:
#3 in Best Value Colleges in Georgia (Niche)
#13 in Best College Campuses in America (Niche)
#14 in the South (Forbes)
#22 in Best Colleges for Veterans (US News)
#27 in Research Universities (Forbes)
#33 in Best Public Colleges in the US (College Simply)
#57 in Most Innovative Schools (US News)
#69 in Top Colleges (Forbes)
Does UGA Offer Early Decision?
The University of Georgia provides Early Action in place of Early Decision. Similar to Early Decision, this early admissions plan enables applicants to submit their applications and receive responses from UGA earlier. Early Action is non-binding, unlike Early Decision. October 15 is the Early Action deadline.
Some high school graduates apply to colleges and universities before anyone else because those institutions are their top choices. Others do it to improve their chances of receiving a letter of acceptance
It serves no purpose to submit an Early Action application to the University of Georgia in an effort to impress admissions officers with your enthusiasm. This is because the institution does not use demonstrated interest as a criterion for admission. It goes without saying that Early Action applicants are only admitted to the school due to their competitive applications.
To ensure that your application is taken into consideration, be sure to remember the following dates:
| | | |
| --- | --- | --- |
| ADMISSION PLAN | DEADLINE | DECISION NOTIFICATION |
| Early Action | 15-Oct | 1-Dec |
| Regular Decision | 1-Jan | Mid-March |
The University of Georgia's admissions office claims that the review process for Early Action and Regular Decision applications is the same. Examine whether your application is complete and prepared for the admissions officers to review it to determine whether you should submit it Early Action or Regular Decision.
What GPA Do You Need to Get Into UGA?
There is no published minimum GPA requirement for applicants to the University of Georgia. However, it acknowledges that the most critical factor in determining an applicant's admission is their high school GPA. UGA recalculates high school grades based on the five main academic subjects studied.
Since the school considers the GPA as the principal admissions factor, it goes without saying that you should have a stellar high school GPA if you want to be one of the 48% of applicants accepted per academic year
The percentage of applicants who were accepted into UGA and the range of their GPAs are shown in the following table:
| | |
| --- | --- |
| GPA RANGE | PERCENT |
| 4 | 62.54% |
| 3.75 to 3.99 | 29.02% |
| 3.50 to 3.74 | 6.62% |
| 3.25 to 3.49 | 0.99% |
| 3.00 to 3.24 | 0.28% |
| 2.50 to 2.99 | 0.39% |
| 2.0 to 2.49 | 0% |
| 1.0 to 1.99 | 0.16% |
| Below 1.0 | 0% |
But don't just focus on your GPA. Numerous other components of your application should also be your priority. The University of Georgia has a comprehensive admissions policy, which explains this. This indicates that its admissions officers evaluate numerous aspects of your application before making a decision.
Continue reading to learn about the admissions factors that might help you get into UGA.
Admissions Factors at UGA
Despite being a flagship institution, the University of Georgia only takes into account two crucial admissions criteria. They are academic rigor and GPA. Test scores are important, too. Some factors are considered but not that important. Additionally, there are aspects of admissions that UGA does not give a damn about.
You must become familiar with the various academic and non-academic considerations admissions officers make in order to have a better understanding of your chances of admission to the University of Georgia.
In the comprehensive admissions process of the public school, each of them has a different relative weight.
What makes UGA so great is that it takes into account many factors that many colleges and universities, especially selective ones, do not find to be significant. This implies that applying there should be less nerve-wracking and stressful than applying to other colleges on your list.
The various academic admissions criteria that are taken into account, along with their relative weights, are as follows:
Academic rigor – very important
High school GPA – very important
Standardized test score – important
Admissions essay – considered
Recommendation letters – considered
When evaluating applicants, UGA admissions officers do not take class rank into account. According to the Common Data Set 2020 to 2021 of the school, 98% of accepted applicants are in the top half of their high school class
Here are the various non-academic admissions factors taken into account, along with an assessment of their relative weight:
Extracurricular activities – considered
Talent or ability – considered
Personal qualities – considered
First-generation – considered
Volunteer work – considered
Work experience – considered
UGA does not take into account any of the following non-academic factors: interview, alumni member relations, geographic residence, state residency, religious affiliation, demonstrated interest, or race or ethnicity.
Requirements When Applying to UGA
One must submit the Coalition App or the Common App in order to apply to the University of Georgia. The school also accepts applications via its own portal. It is necessary to submit a school report, transcripts, test results, and a counselor recommendation. Other recommendations are optional. Application to UGA costs $70.
We previously covered significant admissions-related topics like application deadlines and the various academic and extracurricular criteria taken into account during the admissions process.
Knowing them won't help you if you don't submit everything that's required.
The University of Georgia does not require applicants to obtain a wide range of documents, which is good news. Your high school counselor will also need to complete many of the submissions.
There is no requirement to submit multiple essays and recommendations, unlike when applying to most other colleges and universities.
Here are the simple steps on applying to UGA:
Create a UGA Application account, complete the Coalition App or Common App, or both.
Pay the application fee or submit a request for a fee waiver (if you're eligible).
Submit SAT or ACT scores
Submit transcript, school report and counselor recommendation
By the way, the SAT scores of admitted applicants range from 1220 to 1390 according to the school's Common Data Set for 2020 to 2021. The ACT scores of accepted applicants, however, range from 27 to 32.
If you took the SAT or ACT more than once, submit your results since UGA superscores test results.
How Much Does It Cost to Attend UGA?
According to the rate for the academic year 2021–2022, attending the University of Georgia will cost in-state students $27,946 and out-of-state students $47,360 per year. The tuition of Georgia residents amounts to $9,790. The cost of tuition nearly triples for non-Georgians.
A variety of factors must be taken into account before deciding whether or not to shortlist an institution. The expense of attendance is one of the most significant of those factors, especially in the current economic climate.
Given that the University of Georgia is a public institution, it is not surprising that tuition there is considerably less than what is considered to be the US national average for colleges and universities. Sadly, the same cannot be said for out-of-state students. That's because their tuition is almost three times higher.
Out-of-state tuition, anyway, can be more than two or three times higher than in-state tuition.
The table below shows the estimated breakdown of the cost of attending UGA for a year for both in-state and out-of-state students, as of the academic year 2021 to 2022:
| | | |
| --- | --- | --- |
| EXPENSES | IN-STATE COSTS | OUT-OF-STATE COSTS |
| Tuition | $9,790 | $28,830 |
| Fees | $2,278 | $2,278 |
| Books and supplies | $1,032 | $1,032 |
| Room and board | $10,452 | $10,452 |
| Transportation | $1,224 | $1,598 |
| Miscellaneous | $3,170 | $3,170 |
| TOTAL | $27,946 | $47,360 |
The University of Georgia is still regarded as one of the "best buys" in higher education, according to the Undergraduate Admissions page of the UGA website.
This is particularly true given that graduates of the institution have some of the lowest debt loads after receiving their degrees. Also, there's the Helping Outstanding Pupils Educationally (HOPE) Scholarship. It allows first-year students to start college while paying only a small amount in tuition and fees, and it is only available to Georgia residents.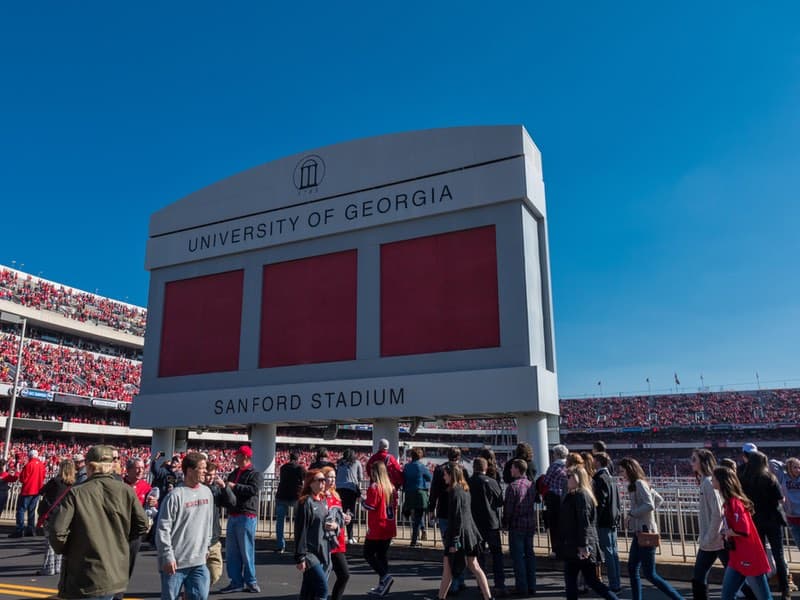 How Much Do UGA Graduates Make?
The University of Georgia alumni members' average first-year income is $42,800. The amount of earnings they make 10 years from their initial admission into UGA equals $56,400 per year, which is more than 60% higher than what is considered the national median for annual salaries
One of the benefits of attending college after high school is that one's chances of finding employment are increased.
True enough, ten years after you began attending the University of Georgia as a freshman, you would earn more money annually than the majority of professionals in all industries. Of course, your annual earnings will depend on different factors. Some of them include your major, work experience and workplace.
The average initial annual earnings of University of Georgia graduates, broken down by major, are shown in the table below if you're curious about how much money you could make each year after graduating from UGA:
| | |
| --- | --- |
| MAJOR | YEARLY EARNINGS |
| Computer Science | $67,200 |
| Management Information Systems | $65,000 |
| Agricultural Engineering | $59,600 |
| Accounting | $57,800 |
| International Business | $56,300 |
| Finance | $55,200 |
| Business | $51,200 |
| Statistics | $49,400 |
| Economics | $48,600 |
| Marketing | $45,100 |
| Mathematics | $44,800 |
| Public Relations | $39,400 |
| Advertising | $39,400 |
| Teacher Education | $38,700 |
| Communication | $35,100 |
| Media Studies | $35,100 |
| Nutrition | $34,300 |
| Journalism | $33,000 |
| Political Science | $31,900 |
| Psychology | $26,700 |
| Chemistry | $26,200 |
| History | $23,900 |
Famous People That Went to UGA
Many well-known individuals once attended the University of Georgia. Some of them are former US Senators and Representatives. Others are founders or CEOs of businesses and companies. Additionally, UGA graduates have pursued careers as actors, musicians, writers, professional athletes, and authors.
It's no secret that the majority of college-bound teens look at factors like degrees, majors, tuition costs, acceptance rates, graduation rates, and others before adding a college to their list of options.
Few people look at the most prominent alumni members.
Going to college can be made even more exciting by learning that some of the people whose names you have already heard or read about previously attended the institution you plan to enroll in. And for this reason, here is a list of the most well-known University of Georgia graduates:
Saxby Chambliss – Former US Senator from Georgia
Johnny Isakson – Former US Senator from Georgia
Paul Broun Jr. – Former US Representative for Georgia's 10th congressional district.
Former US Representative John Barrow served in Georgia's 12th congressional district.
Former US Representative for Florida's 4th congressional district, Ander Crenshaw
Robert Benham: Over 30 years on the Georgia Supreme Court.
Sonny Perdue was the 31st Secretary of Agriculture of the United States.
Thomas J. Callaway IV – Founder and CEO of Onward Reserve.
Thomas G. Former chairman and founder of Cousins Properties of Atlanta
M. Former Coca-Cola Company chairman and CEO Douglas Ivester
Charles S. Sanford Jr. – Former chairman and CEO of Bankers Trust.
James Blanchard, a former Synovus Financial Corp. chairman and CEO
Deborah Blum, the author of The Poisoner's Handbook and The Poison Squad, received a Pulitzer Prize.
Jackie Crosby, a co-winner of the Pulitzer Prize for specialized reporting on UGA athletics
Randall Savage, a co-winner of the Pulitzer Prize for specialized reporting on UGA athletics
Mike Edwards – Former senior writer for National Geographic
Teresa Edwards, a former basketball player in the professional ranks and four-time Olympic gold medalist
First black American swimmer to break both an American and a world record is Maritza McClendon.
Russell Henley, a PGA Tour member and professional golfer
John Kasay, a professional football player who spent 21 seasons in the NFL
Terrell Davis, a professional football player who spent seven seasons in the NFL
"Whispering Bill" is the stage name of country music performer and songwriter Bill Anderson.
Dave Haywood – Member of the band Lady Antebellum
Charles Kelley – Member of the band Lady Antebellum
Michael Stipe – Lead singer of the band R.E.M.
James Michael Tyler, an actor best known for playing Gunther on Friends,
Actor Wayne Knight has made appearances on shows like Seinfeld and 3rd Rock from the Sun.
Just Before You Apply to UGA
The University of Georgia is renowned for its top-notch sports programs and wild parties. More significantly, it is renowned for serving as the state's and the University System of Georgia's flagship institution. It goes without saying that prospective employers will respect and admire the UGA degree you will work hard to obtain.
However, since fewer than half of all applicants are chosen, your application must be exceptional.
Above, we covered a variety of topics related to the University of Georgia, particularly those that were admissions-related. Use the knowledge you previously learned to your advantage to improve your chances of being accepted.
College Admissions: Inside the Decision Room
FAQ
What percent of UGA is out of state?
25% of the enrolling UGA first-year class come from outside Georgia and represent 41 different states In addition, 84 students are international students who attend the school. Other than Georgia, the top 10 home states for students are:
Can I get into UGA with a 3.7 GPA?
The University of Georgia has no set requirements for GPA. If you have a 2. Although you are likely to be rejected if you are in your senior year of high school,
What is UGA acceptance rate 2022?
University of Georgia admissions is more selective with an acceptance rate of 40%
How many out of state students does UGA accept?
This year, 25% of students admitted in the class of 2026 are from out of state, according to the UGA Undergraduate Admissions website